OTHER WINTER 2020 PROGRAMS
The programs below are open to girls, women, trans, and gender non-conforming participants. Band Booster is also open to some cisgender boys. Questions about programs? Contact Co-Executive Director Rikki Davis at rikki@girlsrockri.org.
BAND BOOSTER
Band Booster is a new program where bands can learn how to be bands! Bands get a weekly practice time at our space (gear included!) and learn how to practice effectively, record their music, book shows, and promote themselves with the support of their own experienced band coach, who will help them reach their goals. Only 3 slots are still available, so get it while it's hot! 
Program supported by D'Addario Foundation
Cisgender boys may participate in Band Booster, but bands should be at least 50 percent girls, trans, or gender non-conforming youth. Participation is open to youth ages 11-21. Practice times run from 3:30-4:30pm on Mondays and Tuesdays,  3:00-4:00 on Wednesdays and Thursdays, and 4:00 – 5:00 on Fridays. Registration is REQUIRED in order to attend Band Booster, but the program is completely free. Band Booster begins the week of September 29. Register below:
REGISTER BAND BOOSTER
COVID- 19 UPDATE – GEAR LOAN – MUSIC KITS FOR ALL!
Learn an instrument or deepen your practice by taking out a music kit from RIOT RI!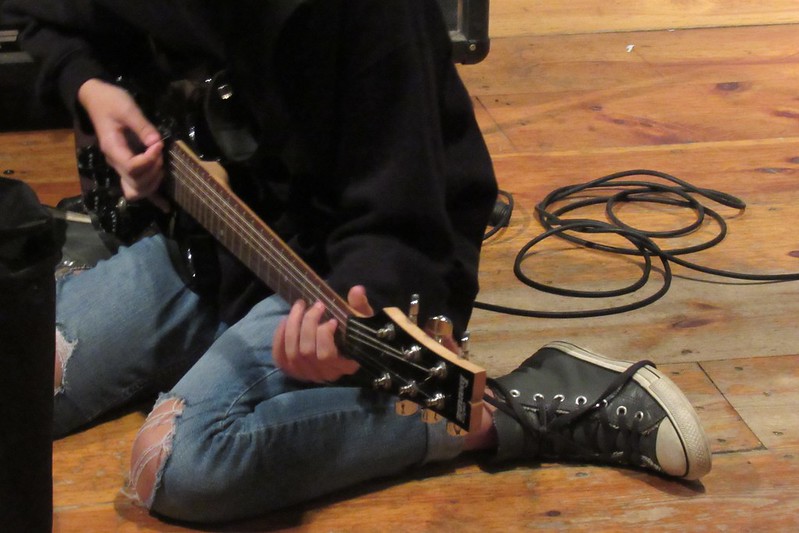 All kits will include:
– An electric guitar or bass – A practice amp – Cables to get you plugged in -A practice booklet
**We are waiving our deposit fee to youth and those whose income has been affected by COVID-19, if you have the ability to pay we ask that you self assess in how much you can contribute to help us fund music accessibility to others Regular deposit fee $30. No one turned away for lack of funds!
Link to register:
GEAR LOAN APPLICATION
PAST PROGRAMS
DON'T READ THE COMMENTS: A (TINY) ARTICLE CLUB
Article Club is your chance, as an adult, to talk about all those articles you just read on the internet… IN PERSON! An "article" could mean anything from a piece in a newspaper, magazine, or blog, to a journal article, short story, or a book chapter, or basically any media. Don't stress if you miss a week– this is really about the conversation! Registration is not required to attend, but it is helpful for us to know who's attending and what they want to talk about! Learn more about weekly conversations in our
Facebook event
.
GENDER DISCUSSION GROUP
Talk it out! Gender Discussion Group is youth-led and co-facilitated, with youth both selecting the topics and leading the conversation! Each week you pick a different topic, which has included issues such as: Healthy Relationships, Beyonce, LGBTQ+ Issues, Gender in Film, and more! Learn to facilitate conversations on interesting topics and share your opinions in a supportive space. Gender Discussion Group is open to youth ages 14-18 and registration is REQUIRED in order to ensure a consistent group and quality conversations. Gender Discussion Group begins September 24th. Register below:
YOUTH DROP-IN
Youth Drop-In is an opportunity to meet up with other youth, play music together, meet new band members, try new instruments, play games, talk about issues relevant to your life, work on homework, or create fun activities in a supportive setting. The program runs Mondays-Thursdays from 3-4pm throughout the school year beginning September 10th and is open to youth ages 11-18. Registration is not required, but it is helpful for us to know who's attending and what they want to do/learn! Youth Drop-In begins September 10th. 
Program supported by Newport Festivals Foundation.
WORKSHOPS
Recording 101
Date: Saturday, May 4, 2019 @ 10:00 AM – 3:00 PM Instructors: Karen Orsi & Skylar Batz Cost: $100.00
(Youth 14+ & Adults 18+) In this workshop, students will learn how to record their own music! From recording on the simplest of devices (smartphones, handheld devices) to recording and editing a more complex multitrack recording (using laptop computers, audio interfaces and recording/mixing software), students will become knowledgeable in many different aspects of recording.
Students will learn about working with microphones, audio interfaces, as well as the different software that is available for audio editing in a fun and collaborative environment. They will get to record a live song together, and work in teams to edit, arrange and mixdown the recording into final versions of the song. From there, they will learn how to get their music out into the world on Soundcloud and Bandcamp.
My Kid is Gay: Supporting your LGBTQ Child
Date: Saturday May 11, 2019 @ 11:00 AM – 1:00 PM Instructors: Paige Prefer & Rikki Davis Cost: $40.00 (Adults 18+) So. Your kid is gay. Or trans. Or non-binary. Or anywhere on the LGBTQ spectrum. Now what?  Maybe they've just come out and you're not sure how to support them. Maybe your child has asked you to use pronouns you can't seem to master.  In this workshop, Paige Prefer, a social worker specializing in LGBTQ issues, will lead a discussion dedicated to helping parents understand their LGBTQ youth. We know you love your kid–we'll help you learn how to support them now that you know them even better than before!
Band Booster Bootcamp
Date: Friday, May 24 @ 6:00 PM – 8:00 PM Instructor: Rosie Gripton Cost: $40.00
(Adults 18+) 
In this condensed version of our youth Band Booster series, Rosie Gripton teaches ADULT bands how to be bands! Come with your band, or by yourself. Whether you're about to start a solo project, or have been jamming out with a few friends and want to take it to the next level, this workshop is for you. Participants will learn tips on how to practice effectively, how to get their music recorded, how to book shows, buy, sell, and make merch, and promote themselves! This workshop will help you learn all the tricks of the trade so you won't have to stumble through them on your own!
No Chill: Dealing with Stress and Anxiety for Youth
Date: Saturday, June 1 @ 11:00 AM – 1:00 PM Instructors: Ari Mercedes and Denise Mathews-Reidpath Cost: $40.00 (Youth 11-18) Big mood=staring at your ceiling until 4 am thinking about all of the little embarrassing things that happened during the day including that weird look Ray gave me at lunch oh my god is Ray mad at me?? You're not the only one having a panic attack in the bathroom! Anxiety and depression effect six times as many students today as in their grandparents generation. Having some anxiety is a normal response to stress!* In this workshop, Denise and Ari will help you learn tips and tools on how to handle stress and anxiety in your daily life. Let's talk it out folx. Your sweaty palms? Canceled. *This workshop is not a substitute for ongoing mental health treatment for diagnosed anxiety or mental health issues.